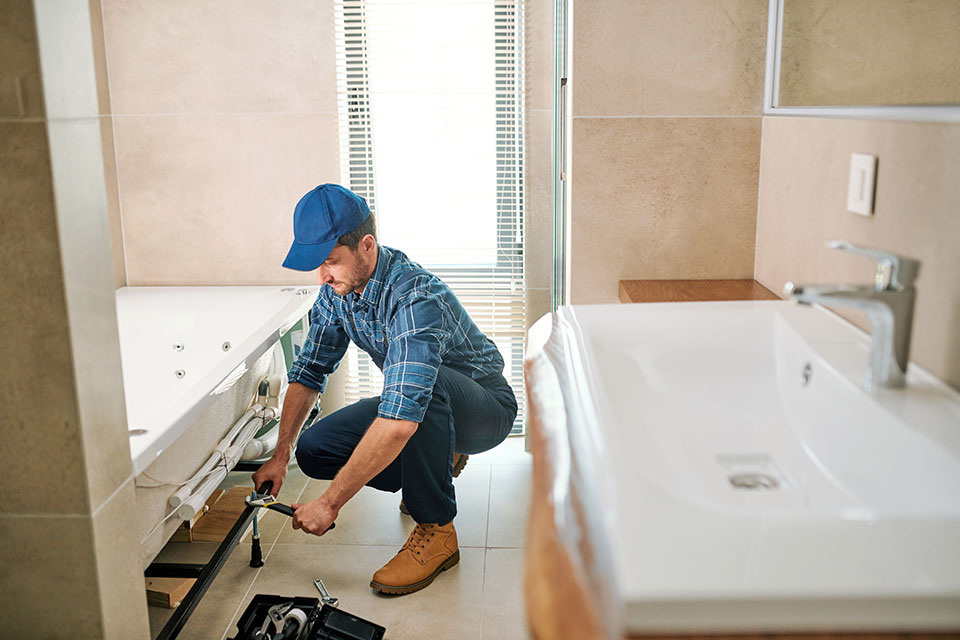 Bathroom Repairs in Sterling, VA
Kiddco Plumbing performs various bathroom repairs and installations for any problems you may be experiencing in your home or business. Whether it's drain cleaning, drain repair, sink plumbing, toilet plumbing, or water leak repair, Kiddco Plumbing has you covered.
Kiddco Plumbing also performs repairs and installations specifically related to bathtubs and showers.
Bathtub Repair
If you're experiencing mold or staining on your tub that won't go away or a leak that you can't fix, it might be time for bathtub repair or replacement. Leaks can not only be burdensome, they can also be dangerous. In excess, leakage will lead to mold and mildew that can be detrimental to the health of those living in your home. Leaks from your existing tub can also lead to water damage, permanently scarring your bathroom floor.
Shower Repair
A leaky shower faucet could cause similar issues. Mold and grime buildup in the shower can lead to deteriorating health, triggering allergies or leading to breathing issues. More importantly, leaking showers and tubs can cost you gallons of money that you're going to feel when you receive your water bill. Investing in these fixes is a worthwhile investment for your health, your happiness and your financial security.
Proper tub or shower repair from our experts at Kiddco Plumbing can solve all of these issues and give you peace of mind once more.
Bathtub Installation
If you've decided to undergo a complete bathroom renovation, you're going to need to complete a bathtub installation. Bathtubs are a crucial part of day-to-day living, and you want to make sure they're done right. An improperly installed tub can do a great deal of damage to your beautiful bathroom, leading to wasted money that could have been avoided were it done correctly the first time.
Here, Gregvancom warns what can happen if you don't perform bathroom repairs or install a tub correctly.
Shower Installation
Similarly, most bathroom remodels will require a shower installation. Research shows that more than half of people prefer showering to bathing, so you'll want to ensure you get your shower installation done right.
At Kiddco Plumbing, we can help you choose high quality, efficient bathroom fixtures that will look great and work great for years to come. We will remove and dispose of your old fixtures, relocate water lines and drains as needed, and professionally install your new showers. With our tools and knowledge, Kiddco Plumbing is prepared to help you install a new shower. We're here to help you to complete your major household project no matter where you are in Northern Virginia.
Emergency Bathroom Repair
For 24/7 service for leaky bathtubs or showers or any other emergency needs in Northern Virginia including on nights and weekends, call the plumbing specialists at Kiddco Plumbing.
"Andy came right on time, and got right to work. He explained everything in terms I could understand which is great. Not condescending, just mater of fact. I don't need a chatty plumber, I just need one that explains himself well, get's the work done fast and correct the 1st time and keeps the cost down in doing so. Andy was just that guy."
Terry F.